Welcome to the Mahwah Policemen's Benevolent Association (P.B.A.) Website
Thank you for taking the time to visit our home on the web and to allow us the opportunity to share information with you. The P.B.A. is constantly looking for ways to improve its communications with its members, both active and retired and we are glad to also offer our website as a useful resource to the general public. We believe that you will find our site interesting and useful. Please feel free to bookmark this site and be sure to check back often for updates.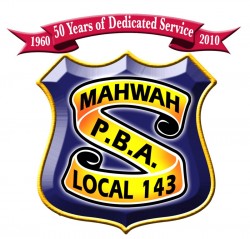 The Mahwah PBA Local 143 is conducting a toy drive to collect toys for those in need. Every year the Mahwah PBA collects toys along with other locals in the area. The toys are the personally delivered by police officers to children in hospitals and other locations where children who aren't as fortunate, can have a smile on Christmas morning. There are several drop locations in Mahwah where you can drop off a new unwrapped toy. The locations are as follows: Mahwah Police Headquarters, Mahwah Bar & Grill, Acme, Mahwah Town Hall, The Mason Jar, Roxanne's Restaurant, Sonny & Tony's Restaurant, Esposito's, Stateline Diner, Kingsbridge Diner, 7-11( Franklin Turnpike), Citgo Gas Station, Bagel Express, Hyundai (Sales Department), Hyundai (Service Department), Ramapo College (Bradley Center), Ruff Cuts, and Mahwah Honda. The final day for dropping off toys at the above locations will be December 19 to ensure they are delivered on time.
Also participating in the Toy Drive is UPS, Jaguar, and Flavor Fragrance. 
In addition to being a drop off location The Mahwah Bar & Grill has graciously offered additional help with the toy drive as in past years. On Wednesday, December 7th from 5 pm to 10pm they will host a promotion where you will receive a free appetizer with your meal if you bring in a new unwrapped toy. The Kunisch family has always been a distinguished supporter of the Mahwah PBA and our efforts in giving back to the community and those in need. Please come join us in our efforts to help as many people ands we can this holiday season.
The Mahwah PBA strives to give back in several ways. There is nothing more special than seeing the happiness on a child's face when opening a gift. Please help us make this holiday season joyful with a toy for each boy and girl.

The Mahwah PBA Local 143 and it's members proudly participated in Movember to raise awareness in the fight against prostate cancer. This year our members in conjuction with the Mahwah PBA raised $3,800 in donations. The money was donated to Memorial Sloan Kettering Hospital in memoriam of David F. Hayes and Pedro J. Vega. Also honored in memory of our donation is Dr. Micheal Morris, a doctor at Sloan Kettering who has dedicated his life towards fighting prostate cancer. Each member wore their beards proudly in hope that one day a cure is found. 

    

 

O

ur support a

nd prayers go out       
to the men and women serving this great nation.
Thank You!