Welcome to the Mahwah Policemen's Benevolent Association (P.B.A.) Website
Thank you for taking the time to visit our home on the web and to allow us the opportunity to share information with you. The P.B.A. is constantly looking for ways to improve its communications with its members, both active and retired and we are glad to also offer our website as a useful resource to the general public. We believe that you will find our site interesting and useful. Please feel free to bookmark this site and be sure to check back often for updates.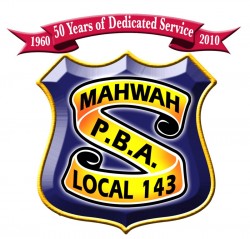 Girl in Mahwah condo fire jumps 3 stories into arms of police
MAHWAH, N.J. — A trio of Mahwah police officers thought they'd evacuated all of the residents from a raging Mahwah condominium fire Tuesday afternoon when they spotted a 9-year-old girl on a third-floor balcony.
"We called out to her to jump — and she did!" Lt. Jeffrey Dino told Daily Voice moments later at the Society Hill condominium complex.
"We caught her!" one of them shouted as little Sofya Doroshenko nestled into their arms after trust-falling backwards from the railing.
"Not a scratch on her," Dino said. "She's the bravest little kid I've ever seen."
"They saved my child!" mother Yulia Doroshenko told Daily Voice. "I don't know what to say.
http://cliffviewpilot.com/girl-in-mahwah-condo-fire-jumps-3-stories-into-arms-of-police/
If you were displaced by the fire or would like to help those who were please review the contact information below:
Please Email or Call before Comming!
 Elizabeth Buttino, Community Manager for Society Hill at Kilmer Woods Village II, 880 Juniper Way, Mahwah NJ 07430
Phone: 201-818-1755      Fax: 201-818-8892
Email: elizabeth.buttino@fsresidential.com
Hours of operation: 9:00 Am  – 4:30 Pm
    

 

O

ur support a

nd prayers go out       
to the men and women serving this great nation.
Thank You!